Innovative resource management behind old walls
Sustainability has many facets. Particularly in the corporate context, you have to produce, operate, build, plan and to develop in a sustainable manner in many areas. The subject of sustainability has been a fixture in HELLER's corporate strategy and mission statement for many years. In the following, we are going to look at the term in the context of facility management and with a focus on occupational safety and environmental protection.
TEXT Lukas Schult IMAGE HELLER
"In the past, buildings were nothing but four-walled structures to me," says Wolfgang Höhn, Head of Facility and Quality Management at HELLER. However, according to the 53-year-old, buildings represent a significant cost factor and an important asset for most companies today and therefore have to be regarded from a holistic point of view. This approach has been standard practice in HELLER facility management for years. Many of the approx. 60 buildings at the company's headquarters in Nürtingen are listed buildings. There is not much room for new constructions. Therefore, the company invests heavily in the modernisation of the existing halls and buildings. "Whenever we plan constructional measures, we exceed the statutory requirements," explains Daniel Maier, who, among other things, is responsible for energy performance assessment in the team led by Wolfgang Höhn. But what does this mean specifically? The long-term goals of HELLER Facility Management are to achieve increased efficiency, a significant cost reduction and improved fire safety and security. Innovative building technology is one possibility helping to achieve these goals.

For this purpose, HELLER has been using intelligent systems, such as a building services management system, for many years now. For monitoring and control purposes, the system uses 10,000 data points, e.g. speed-regulated fans and pumps in the production halls. This auto­mation makes it possible to respond to all wishes of the users, e.g. to adjust temperatures, humidity values or volume flow rates. Moreover, it is planned to directly link the majority of the machines in HELLER ­production to a building process cooling system in the future. This will allow to remove the heat given off where it is produced with immensely positive effects on room parameters.
Another step towards optimisation and transparency is currently made in terms of the monitoring of energy values. The goal of Höhn and his team is to implement a system independent of the buildings, allowing for ­centralised energy monitoring of consumptions and requirements.
A cogeneration unit for greater independence
In 2018, HELLER consumed ten million kilowatt hours of electricity. "This makes us an enterprise with average electricity consumption in relation to our size," explains Daniel Maier. However, HELLER aims for greater independence from the electricity market and therefore plans its own combined heat and power unit (CHP) and to install solar power systems on the roofs of new buildings on the company premises in Nürtingen. 
"We need a substitution strategy. Therefore, our goal is to produce more of our energy ourselves"
"We need a substitution strategy. Therefore, our goal is to produce more of our energy ourselves," Wolfgang Höhn, the Head of Department, explains. While this project is still in its planning phase, the company has already achieved a number of successes in terms of energy management. HELLER has been re-certified in accordance with the DIN 16247-1 standard for the second time. In April 2015, the German Bundestag confirmed the Energy Efficiency Directive adopted by the European Union in 2012. Since 2015, medium-sized companies in Germany are required to perform a comprehensive energy audit every four years.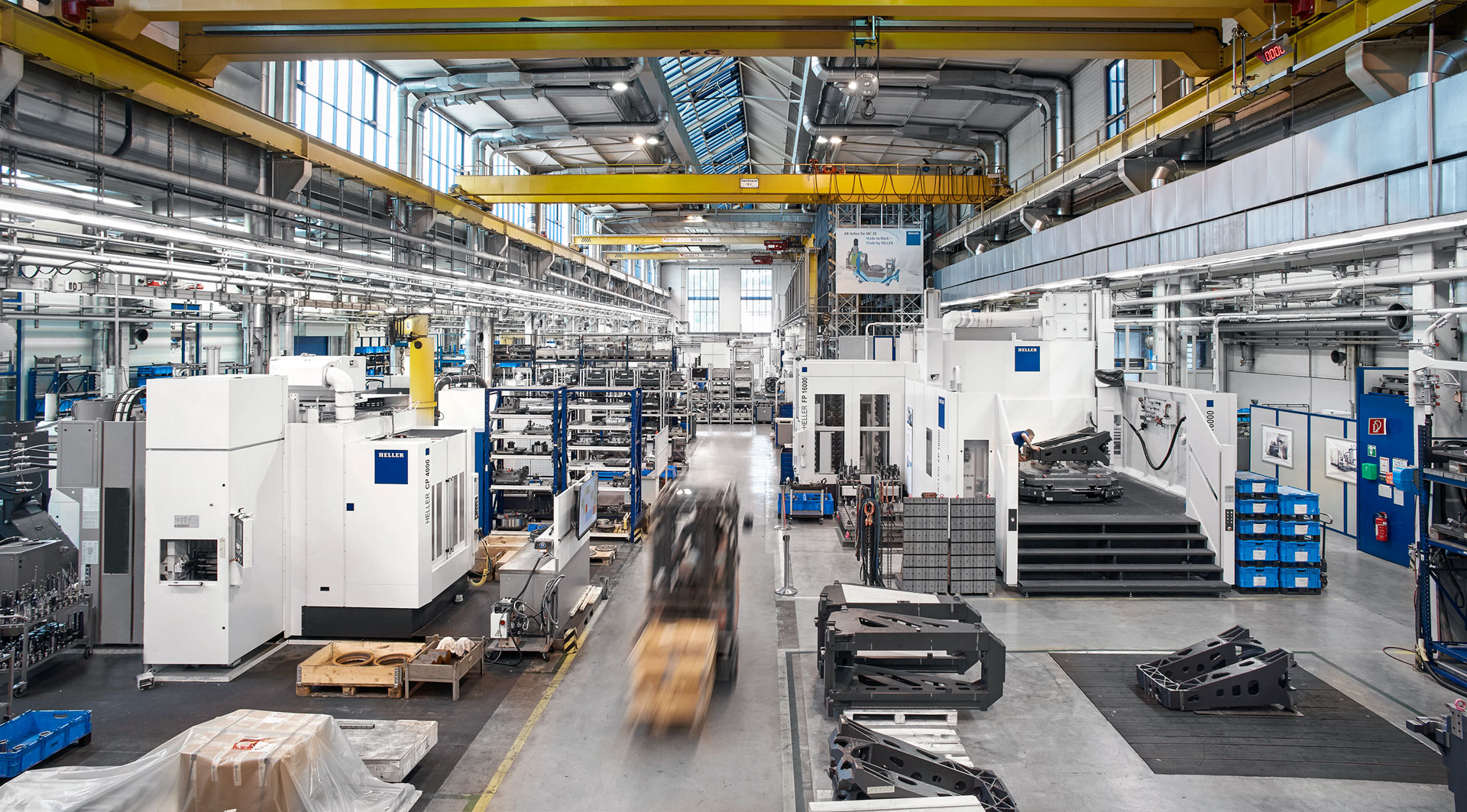 Waste tracking and occupational health and safety
Georg Preu has a similar point of view as far as the subject of sustainability is concerned. He heads the administrative department for occupational health and safety and environmental protection at HELLER. His tasks go beyond building services and range from industrial safety through to ­occupational health of staff at the workplace. Moreover, HELLER also holds certification in terms of environmental management. "We obtained certification to the ISO 14001 environmental management standard in 2018," Georg Preu is happy to say. Companies pursing this certification have to implement an extensive package of measures to ensure operational environmental protection. At HELLER, these are included as a set of strategic goals in the company's environmental objectives and have ­also been implemented as part of a wide range of concrete measures. Shop floor lighting, for example, is successively being converted to energy-­saving LED technology. In terms of waste disposal, the materials are closely tracked and accounted for in a comprehensive waste balance sheet at the end of the year.
"To consistently achieve our environmental targets, we have also audited the waste disposal company we work with to ensure they comply with the environmental standards," Preu explains. "We also require our suppliers to use environmentally friendly packaging as far as possible." Another ­area of responsibility of the Health and Safety Officer Georg Preu is to ­ensure and to enhance occupational safety in the workplace in a sustainable manner, both for office staff and shop floor staff. Regular workplace inspections help to achieve continuous improvements in these areas. Last but not least, well-functioning works medical services contribute to the protection and performance of the employees in a sustainable manner. In 2018, Preu registered more than 3,800 medical care situations at the medical station. Approx. 170 employees in Nürtingen are trained first-­aiders, 18 of which have received further training as qualified first responders. Whilst most have been trained as medics, there are even two professional paramedics, all ensuring that occupational health and safety have the highest priority and are guaranteed by a sufficient number of competent staff.