The HELLER DNA
in five axes
Text Lukas Schult Photos HELLER
Sturdy machine engineering, profound process experience, comprehensive milling expertise – these are the basic characteristics of HELLER machine tools. Since the 1980s, HELLER has expanded its machine portfolio of proven 4-axis machining centres with 5-axis machines. The current F, C and HF series and the MC 20 ­machining centres are synonymous with highest productivity and flexibility in 5-axis machining. Despite their varied and versatile applications, all machines share the typical HELLER genes of highest quality, perfect productivity and ­absolute reliability in day-to-day production. What sounds like a well-worn cliché has been a promise for HELLER for 125 years.
With the introduction of the F series in 2009, HELLER opened a new chapter in terms of the process-secure 5-sided and simultaneous 5-axis machining. The fifth axis of the F series is provided by the tool and the machines can either be equipped with swivel-head or fork-head kinematics. The series has been designed especially with those users in mind who need to accomplish a wide range of tasks on a single machine. For series production, the F series provides a pallet changer. If smaller batch ­sizes are manufactured in a workshop-oriented manner, HELLER also offers the machining centres with table loading.
The premise with the C series of machining centres is Combined Processing, since these machines do not only provide powerful milling but also turning capabilities. This highly productive machine provides economically efficient cutting data with workpiece rotations of up to 1,000 RPM for performance-oriented pre-machining and finishing true to the final contour. The swivel head or fork head and the high-speed rotary table enable hassle-free horizontal and vertical turning operations of outer and inner contours.
The modular MC 20 machining centres are ideally suited for integration into flexible manufacturing systems and for highly productive series production of light-duty automotive components and are also available with direct loading. In standard design, they feature 4 axes, but they can also be equipped with a fifth axis provided by the workpiece as an option. The compact machines in modular design are scalable and can be linked to an automated manufacturing system at any time.
The latest machine development, the HF series, is the logical expansion of HELLER's product portfolio in the 5-axis range of machines. These highly productive and flexibly applicable machines provide great ease of use and are available with pallet changer or in table design. Contrary to the C and F series, the fifth axis of the HF series is provided by the workpiece. Rigidity is guaranteed due to the robust cast machine bed combined with a weight-optimised steel machine column. At the core of the dynamic drive concept are the ball-screw driven linear axes equipped with anti-friction guideways. The NC swivel rotary table equipped with two direct driven rotary axes maintains its rigidity even under high loads due to a counter bearing combined with a YRT bearing. In short, the HF is optimally equipped for the exacting requirements of modern production processes and therefore the ideal machining centre for the manufacture of complex components.
In addition to the specific light-duty appli­cations of the 4-axis and 5-axis MC 20 ­machining centres and the possibility of integrating them into flexible manufacturing ­systems, the three series – F, C and HF – can be combined with workpiece or pallet auto­mation without any problem, offering a wide range of options in terms of workpiece and tool management. As a result, all HELLER 5-axis machining centres can be perfectly ­integrated into any specific manufacturing environment, thus offering the necessary ­flexibility indispensable to customers today.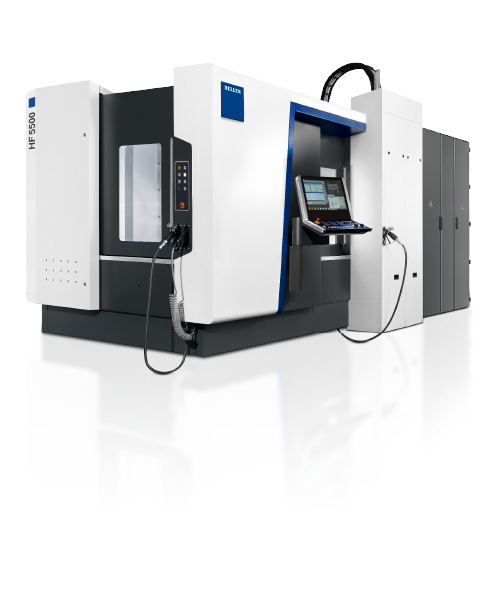 5-axis
machining centres
HF
horizontal 5-axis machining centres with 5th axis provided by the workpiece

NC swivel rotary table with counter bearing and AB ­kinematics as standard

short chip-to-chip times due to quick tool changer and high axis dynamics

spindle units optionally equipped with HSK-A 63 or HSK-A 100

good accessibility for ease of operation and maintenance

machines with pallet changer optimally suited for series production

machines with table loading for workshop-oriented manufacturing and small batch sizes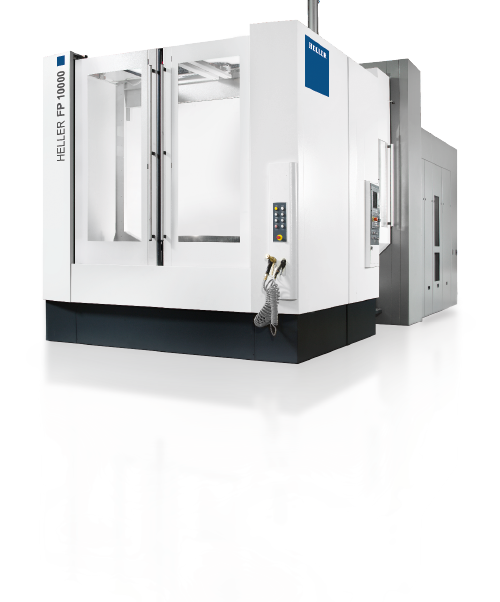 5-axis
machining centres
F
universal 5-axis machining centres with 5th axis provided by the tool


spindle units with swivel-head or fork-head kinematics

powerful 5-sided and simultaneous 5-axis machining


robust machine design, combined with powerful, high-torque spindle technology

optimised per-piece costs due to reduced number of clamping positions and machining in a single setup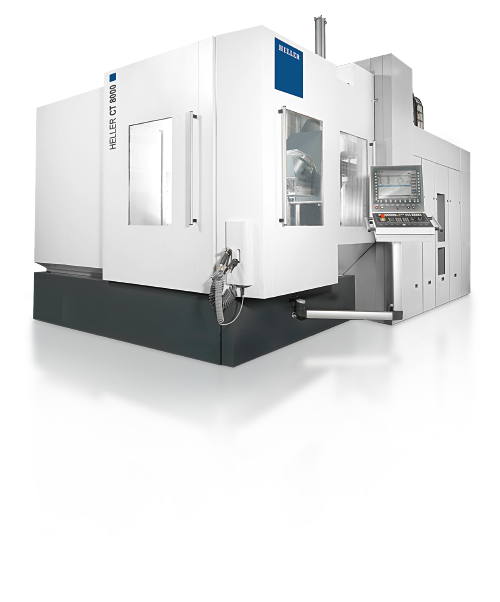 5-axis milling/turning
machining centres
C
universal 5-axis mill/turning centres with 5th axis provided by the tool and a rotary table

powerful combination of milling and turning operations on a single machine for highest flexibility (Combined Processing)

5-sided and simultaneous 5-axis machining and turning with tilted rotary axes

machine with pallet changer optimally suited for series production

machines with table loading for workshop-oriented manufacturing and small batch sizes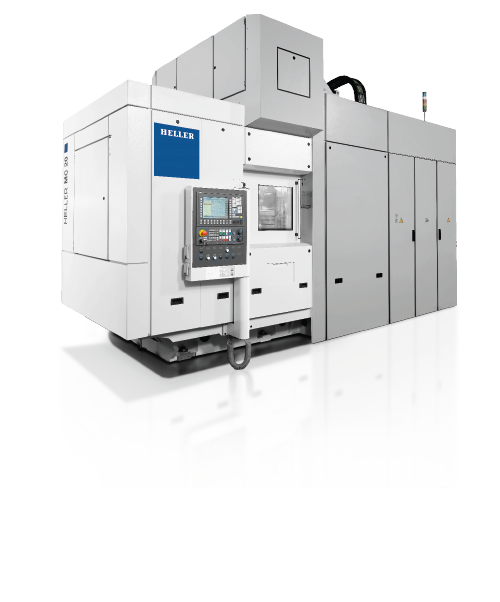 5-axis
machining centres
MC 20
modular 4-axis or 5-axis machining centres for direct loading


designed for optimal integration into flexibly linked manufacturing systems and 24/7 series production of light-duty automotive components

5-axis variant with NC swivel rotary table
(AB combination with 5th axis provided by the workpiece)
horizontal spindle for optimal chip fall

short chip-to-chip times due to fast tool changer
and high axis dynamics
small footprint with overhead tool magazine


automatic workpiece loading from the top (or from the front) directly into the work area (Direct Load)

spindle units optionally with HSK-A 63 or HSK-A 100 tool shank