Investigating the future of machine and plant engineering

TEXT Dr. Eric Maiser (VDMA) PHOTOS Stock / Fotograf Foto Maiser
Climate change, migration, urbanisation, mobility, artificial intelligence – the world is changing. Trends and disruptions open up new business opportunities to many industries or challenge traditional ways of thinking. Machine and plant engineering is right at the centre of it: an industry driven by innovation that has always picked up the trends of the time in order to enhance products and their production and to create new things. How can companies recognise changes and shape change? What role does digitisation play? Insights into trends, trend scouting and foresight as corporate strategies.
Machine manufacturers 'produce' the future
Tools, machines and equipment are drivers of technological and social change – not only since the Industrial Revolution or the first flight to the moon. At the same time, the mechanical engineering sector itself is in a constant state of change: following the perfection of mechanics, it became clear in the 1970s that the use of electronics would open up new horizons to mechanical engineering. Today, comprehensive, even revolutionary impulses come from the areas of computer sciences and from start-ups from outside the machine building industry. As a result, the mechanical engineering industry itself has become a trendsetter. This is highlighted by the following examples of trends connected to digitisation.
Digitisation: five complex future-oriented fields
The 1980s saw the emergence of Computer Integrated Manufacturing (CIM) followed by a rapid increase in computing power and the introduction of networked microsensors. This resulted in the invention of self-organising production 10 years ago, today known as 'Industry 4.0'. Today, OPC-UA helps to create 'plug-and-play' solutions for manufacturing. In 2016, machine learning, a sub-field of artificial intelligence (AI), added another dimension, allowing to design self-learning machines. The benefit to the industry: since then, production and logistics have become even more flexible and customisable. But what is really revolutionary about it is that machine learning does not only support automatic evaluation of large amounts of data but also allows to establish previously unknown correlations, to draw unusual conclusions and to generate new knowledge – all in real time. All this results in attractive, completely new business models, from predictive maintenance, as-a-service solutions and data marketing through to human-machine-interfaces. As a result, mechanical engineering companies are able to tap into new markets, offering two-digit growth potentials for hardware and software solutions. Moreover, AI creates entirely new professions and makes companies attractive for digital natives.
Digitisation and networking are also powerful drivers for the future of supply chains. Today, versatile global value-creation networks are in demand allowing to respond to ever more rapidly changing production requirements of increasingly demanding customers in ever shorter periods of time. When order processes and finance flows are not only digitised and automated but run autonomously, making order forms, printed packing lists and invoices obsolete; when the last mile of delivery is organised in a reliable and customer-oriented way, also using drones, then Industry 4.0 reaches far beyond the production halls and is transformed into an autonomised supply chain.autonomised supply chain.
Materials of the future enable entirely new approaches in terms of products, production processes and machines and have always been drivers of innovation. There are countless examples: laser crystals, semiconductor chips, application-specific alloys, customisable plastics, technical ceramics or carbon fibres. Faster and faster, laboratories are developing materials and material combinations with entirely new characteristics. Lightweight hybrid design, multi-material design, additive manufacturing, bionic design methods or smart materials are recent fields providing various potentials for mechanical engineering companies – as a supplier or user. How does digitisation come into play? Materials must become Industry 4.0- ­compatible. Not only in terms of production but also in view of the end of the product lifecycle. The term Circular Economy 4.0 refers to the holistic approach discussed at the moment, taking the recyclability of products into account during the design phase in order to extend their usage period and to ensure extensive recycling. Industry 4.0 approaches – as yet unimplemented – provide a huge potential in terms of waste prevention, conservation of resources, security of supply and greenhouse gas abatement and also provide a perfect playground for mechanical engineering.
Speaking of CO2: machine and plant engineering companies provide many industries with efficiency-enhancing and emission-­reducing technologies, making it a key industry for climate protection. Renewable energies and direct use of electricity are ­increasingly coming into the focus, especially in terms of mobility. Additionally, Power-to-X, i.e. indirect electrification through transformation into other forms of energy, provides a promising flexibility option, with 'X' referring to e.g. gases, liquids, heat or base chemicals. This also includes synthetic fuels used in air and marine traffic. In terms of the renewable energies required for this, digitisation plays a significant role regarding the international organisation of networks and supply reliability.
Start-ups: breaking new ground
A wealth of topics to be explored. Speed is the key in global competition. Start-ups are a good example of how quickly trend topics can be transformed into new technologies and products which also play a role in mechanical engineering. Contrary to established companies, start-ups can be more creative and are able to try out new things, taking a more playful approach. Digitisation is a prominent driver in this area but not the only one by far. Start-ups also contribute new ways of working that can be extremely useful to the industry – from makerspaces through to agile teams and userX. At the same time, mechanical engineering is a major user industry for start-ups. Both parties can benefit and learn from each other.
Corporate foresight as corporate strategy
In short, the technologies and markets for machinery and equipment manufacturers are extremely varied, the business is global. This means that almost every trend is of interest to machine building companies and the spectrum is vast. On the other hand, capital goods need to have a significantly longer life cycle than consumer goods and also customers are more discerning and the investment risk involved is higher. Accordingly, the business models in the industry need to be adequately robust, leaving little room to 'experiment'. The bottom line is: not only will companies need the flexibility to respond, they also need strategic foresight to proactively shape their business and to be prepared for disruptive changes, no matter what will happen or when it will happen. In the past, key performance indicators used to be the most important instrument in corporate development. Today, corporate foresight is beginning to establish itself with integrative approaches and networked thinking, offering companies strategic instruments to look ahead and to implement innovation processes within companies. Medium-sized companies in particular usually lack the departments enabling them to quickly and systematically assess trends, to recognise euphoria or doom-mongering and to develop and implement genuine foresight strategies. The same applies to cooperations with start-ups.
Our solution: VDMA Future Business. A 'think tank for machine and plant engineering' supporting companies with a trend radar, scenario workshops and strategic foresight to approach their future in a systematic and well-structured way. With a start-up radar, new formats and methods of cooperation, the VDMA Start-up Machine connects start-ups and their culture with medium-­sized mechanical engineering companies. Being open to new ideas, shaping change instead of adopting a 'wait and see' attitude – with that we are supporting a strength of machinery and plant engineering.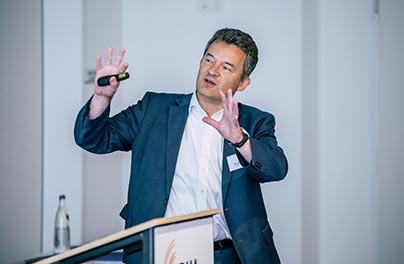 Dr Eric Maiser (born 1967) is a physicist and head of the VDMA Competence Center Future Business, a think tank for mechanical engineering that aims to identify and harness relevant trends. The trend scout and expert in technology roadmaps joined the VDMA in 2000 and established several spin-offs from the electronics production ­segment, including those for flat-panel displays, ­photovoltaics and battery production.