Shaping generations:

Three personalities
from HELLER
history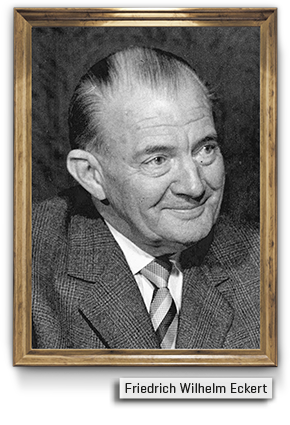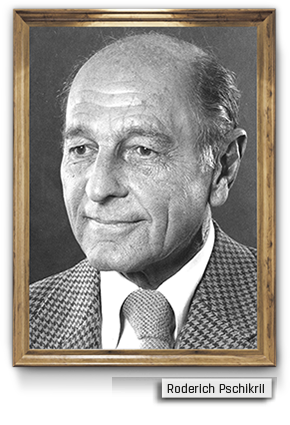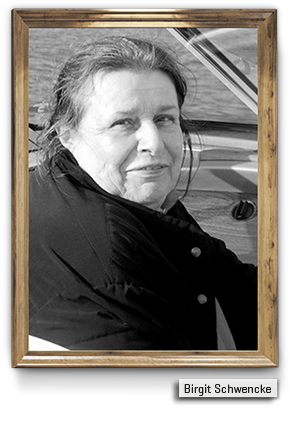 They were three fundamentally different personalities, but they shared a profound loyalty and a strong sense of responsibility towards the company and the Heller family. Birgit Schwencke, second child of Hermann and Hertha Heller, who lived in Munich for many years and was a shareholder in the company. Friedrich Wilhelm Eckert was a 'manager par­ ­excellence' who took a leadership role at HELLER in a difficult situation and together with Roderich Pschikril ensured the orderly transition to the third ­generation of the entrepreneurial family. As an outstanding networker, ­Roderich Pschikril played a significant role in helping to shape HELLER's success story after WWII.

Friedrich Wilhelm Eckert (1890–1963):
entrepreneur par excellence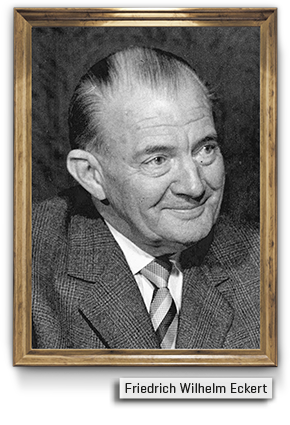 "Friedrich Wilhelm Eckert combined technical skills with commercial ­aptitude and organisational talent," the former Chairman of the Board, Dr. Paul Binder, once described him. Indeed, Eckert was an entrepreneur par excellence, appreciated in many ways also by Hermann Heller. He started his career at the oldest German machine tool manufacturer Niles in Berlin.
When he died in 1959 at the age of only 51, the leadership of the ­company fell to his close friend and confidant Friedrich Wilhelm Eckert, who brought a lot of experience with him for this position from his former engagement at Niles, the oldest German machine tool manufacturer in Berlin. Nearly 70 years old at the time, the graduate engineer, who had been working at HELLER since 1948, was appointed to the company's management. He considered himself a bridge builder ­between the two generations of the Heller family, which primarily meant that he had to prepare the then only 23-year-old Hubert Heller for his future role.

"During that time, I had the opportunity to get to know the personality of Mr Eckert and had the pleasure of working with him. The ease with which he familiarised me with our company's problems and the economic ­processes to then jointly work with me on making the required decisions always deeply impressed me," Hubert Heller remembers, who once described the relationship with Eckert as a kind of father-and-son relationship. From today's perspective, Eckert more than fulfilled the task he was given at that time, considering the fact that Hubert Heller, together with his brother Berndt, would head the company for more than 40 years.
Roderich Pschikril (1911–2001):
great networker and friend of the family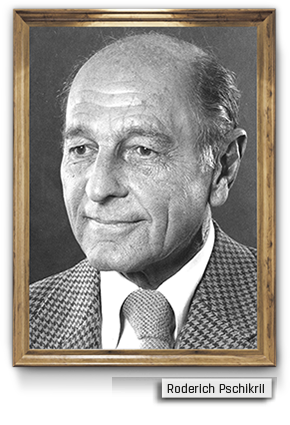 It was Hermann Heller who brought Roderich Pschikril into the company, which he joined on 1 May 1949. The Austrian, born in Lodz/Poland, had completed his education at the commercial high school in Vienna and had then gone to diplomatic college. In the turmoil following WWII, he came to Baden-Württemberg. Roderich Pschikril had excellent relations with representatives from Europe's fast-growing industry and built an extensive network for HELLER. As a result, Pschikril significantly contributed to HELLER's growth during the time of the Economic Miracle. ­Hermann Heller bound him and Friedrich Wilhelm Eckert to the company by making them shareholders of Gebr. Heller Maschinenfabrik GmbH and appointing Pschikril to the role of managing partner. The so-called Pschikril room, an office in the main building in Nürtingen, remained his sanctuary until his retirement in 1977. Throughout his life, Roderich Pschikril remained a close friend and consultant to the Heller family, ­also long after ending his professional career at the company.
Birgit Schwencke (1939–2018):
dormant partner with a strong sense of family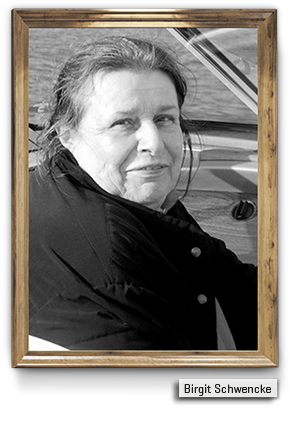 She never pushed herself to the fore and yet she was an active shareholder of HELLER for 59 years. Birgit Schwencke, the second child of Hermann and Hertha Heller, was born in Stuttgart in 1939 and spent a sheltered childhood in Nürtingen. She was only 20 years old when her father died and had just started an apprenticeship to become a foreign language correspondent clerk. Unlike her brothers Hubert and Berndt, the young woman felt confined in the Swabian region and was drawn to Europe's big cities. She first moved to Milan (1963–1967) and, following the divorce from her husband at the end of the 1960s, she moved to ­Munich where her two sons Steffen and Jochen grew up whom she raised alone.
And although Schwencke was not actively involved in the operative ­management of the company, she had a major impact on the development of the company. "Our mother always actively supported all her brothers' decisions," says Steffen Schwencke. And his brother Jochen adds: "The company was very important to our mother and family meant everything to her." All her life, she had a very strong social conscience. She provided children coming from difficult family situations with a place to stay, offering them to live at her house for some time. Her grand-son Felix also lived with her until her death nursing his granny, just like she had done with her own mother.
"We were able to grow up free from care and untroubled at a time when this was not the norm," Steffen Schwencke remembers, who followed his passion to become a landscaper and farmer and like his mother does not play an active role in the company. The same goes for Birgit Schwencke's second son Jochen.
TEXT Lukas Schult FOTOS HELLER, Kseniya/AdobeStock, Yurii/AdobeStock