Innovative
Innovative CAM technologies for manufacturing
excellence
Manufacturing excellence is always a result of several components such as the CAM system, the machine tool and the tool interacting perfectly. The hyperMILL® MAXX Machining performance package provides just that. The three modules for roughing, finishing and drilling comprise innovative machining strategies, enabling users to the get the most out of the machine tool.
TEXT Carolin Lang (OPEN MIND) ILLUSTRATIONS OPEN MIND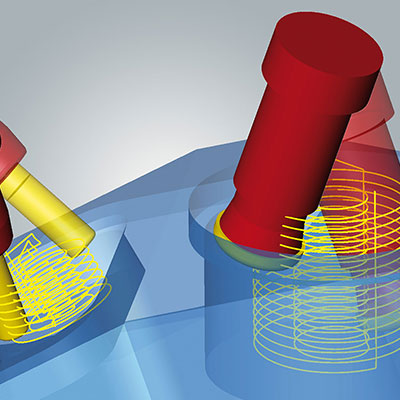 5-axis helical drilling: removing material from circular pockets in a highly efficient and toolfriendly manner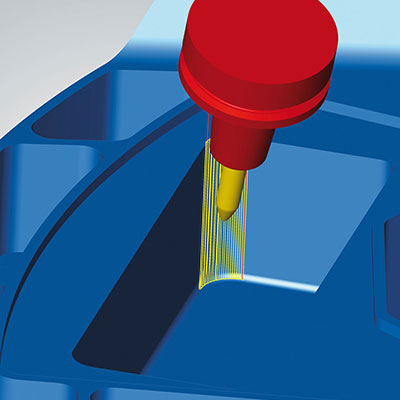 Conical barrel cutter: machining a fillet between two surfaces very efficiently
The roughing module uses helical and trochoidal tool motions to enable milling and turning operations that go easy on the cutting tool. This method is also significantly faster than conventional roughing processes. The finishing module comprises the machining of planes and any constant-curvature surfaces and fillets using various barrel cutters. In terms of finishing, significant time savings can be achieved whilst producing the same or even better surface qualities as with spherical milling cutters. The drilling module allows efficient removal of material from circular pockets whilst reducing tool wear.
Fast roughing in milling and turning
The roughing module provides numerous strategies for milling and turning operations using trochoidal tool paths to ensure reliable HPC machining. Dynamic feed adjustment according to the existing cutting conditions ensures the use of the highest possible feed rate during milling. Turning operations can be performed with optimal use of round form inserts. Both technologies provide optimal tool paths and maximum chip removal rates whilst guaranteeing the shortest possible machining times. The roughing module, for instance, provides the perfect solution for high-performance turning and milling operations. In terms of milling, not only prismatic component surfaces can be machined but also curved surfaces.
Finishing in record time – 90 % time savings
Many industries demand ever higher surface qualities in machining. To achieve this, hyperMILL® provides highly efficient finishing strategies, allowing to make optimal use of the capabilities offered by the machines and the tools in terms of surface finish and speed. For a long time, the finishing of planes was considered a mature process and the often very long machining times required to achieve high-quality surfaces using spherical milling cutters and multipass milling were accepted by users. OPEN MIND developed a completely new technology based on two factors: innovative 5-axis strategies for tangential machining of planes and sculptured surfaces and the conical barrel cutter. The tool can be used as a barrel cutter and as a spherical cutter at the same time. For the conical barrel cutter, the shape of the finishing tool was modified in a way to provide very large radii – ranging from 250 to 1,500 mm. The cutter's larger radii allow to machine much larger step-over distances between paths of 6 to 8 mm. This enables machining operations using high feed rates whilst the ball tip of the barrel cutter ensures effective machining of corner radii. As a result, no change of milling cutter is required for the finishing of adjacent areas such as rounded inner corners. Companies using the innovative strategies and the conical barrel cutter can achieve significant time savings of up to 90 %.
The OPEN MIND Technologies AG is one of the world's leading developers of CAM solutions for programming independent of the machine and control type used. The company develops perfectly tailored CAM solutions incorporating numerous unique innovations, delivering a significant increase in performance. Strategies like 2.5D, 3D, 5-axis milling and mill-turning and operations like HSC and HPC are integrated into the hyperMILL® CAM system. The CAD/CAM solutions provided by OPEN MIND meet the highest standards of tool and mould makers, machine builders, the automotive and aerospace industry or medical engineering.

Superior surface finish
These extremely high-quality surface finishes would be impossible to achieve in a conventional multipass milling operation using a spherical cutter. hyperMILL® MAXX Machining allows to achieve optimal surfaces through skilful consideration of the contact situation. Automatic tool positioning ensures that the tool always has the optimal tilt towards the surface to be machined. The 5-axis multi-surface machining operation using conical barrel cutters allows to produce entire surface groups in a single operation. This results in ultra-smooth sculptured surfaces and planes. Even hard-to-reach areas can be machined reliably and in a highly efficient manner.
Simple programming
Programming in hyperMILL® is easy and user-friendly. Clicking on the surfaces to be machined is enough; the tilt of the milling cutter is then generated automatically. Automatic collision avoidance is provided for the complete machining process. Companies using the innovative strategies provided by the hyperMILL® MAXX Machining performance package have numerous benefits: short machining times, extended tool life, small number of tools, maximum process reliability and optimal surface quality.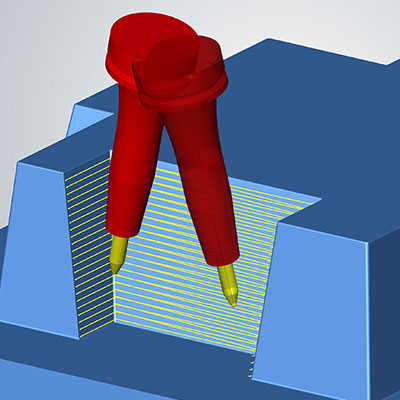 Short machining time: high stepdown with conical barrel cutter accompanied by a high surface quality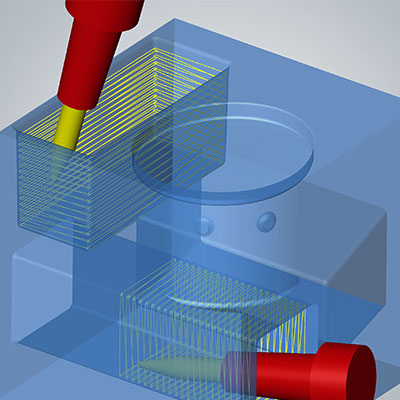 The strategy 5-axistangent plane machining allows highly efficient finishing with conical barrel cutters.