TEXT Jacqueline Rost
PHOTOS Heiko Hermann, Jürgen Altmann

The new customer portal
myHELLER
Customer requirements have changed significantly in recent years. In times of digitisation, customers expect to be served as quickly, easily and competently as possible at anytime from anywhere in the world. Strong customer and service orientation has always played an important role for HELLER as a company. With the new myHELLER customer portal, the company now offers its customers an additional digital communication platform that once again underpins the 'Lifetime Partnership' service commitment.
At the HELLER Open House in May 2022, the machine tool manufacturer presented the myHELLER customer portal to its guests for the first time – with a response that spoke for itself: "In addition to many in-depth discussions with our customers we also had numerous registrations for the new platform during our in-house event. We are of course very pleased that the portal has met with such great interest," Dr Gerd Schöllhammer, Managing Director of HELLER Services GmbH, said at the premiere of the digital portal.
After extensive test runs, HELLER customers from Germany have been able to register officially on the myHELLER customer portal since July of this year with other countries to follow. Gradually, all customers will be able to benefit from the advantages of the free-of-charge portal. To do so, simply register online with your customer or machine number and you are ready to go.
"Lifetime Partnership is our number one service promise. With myHELLER, we now offer customers an additional service to support them as a reliable partner throughout the entire life cycle of their machine and to ensure its availability and productivity."
Dr. Gerd Schöllhammer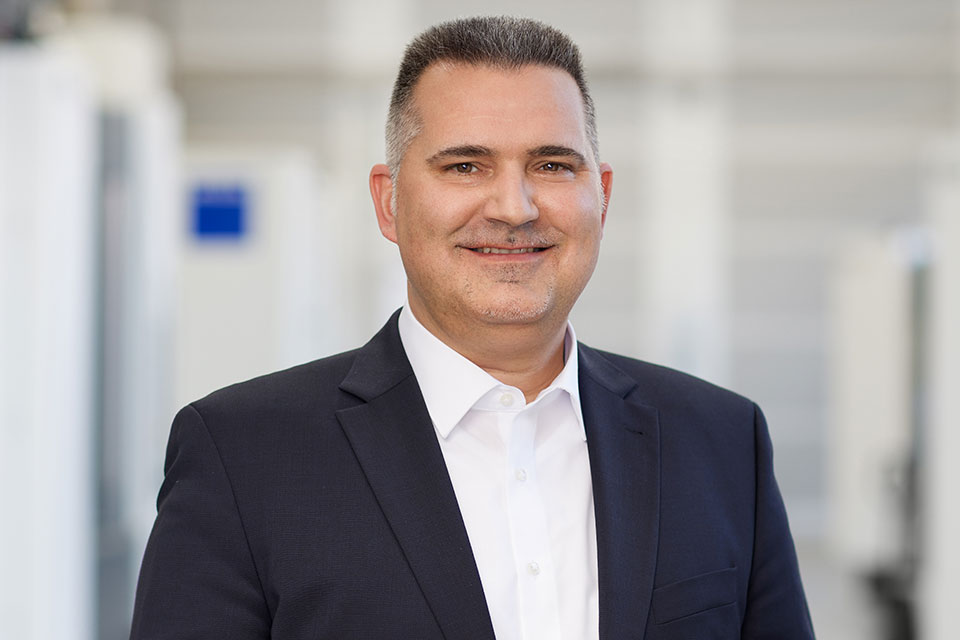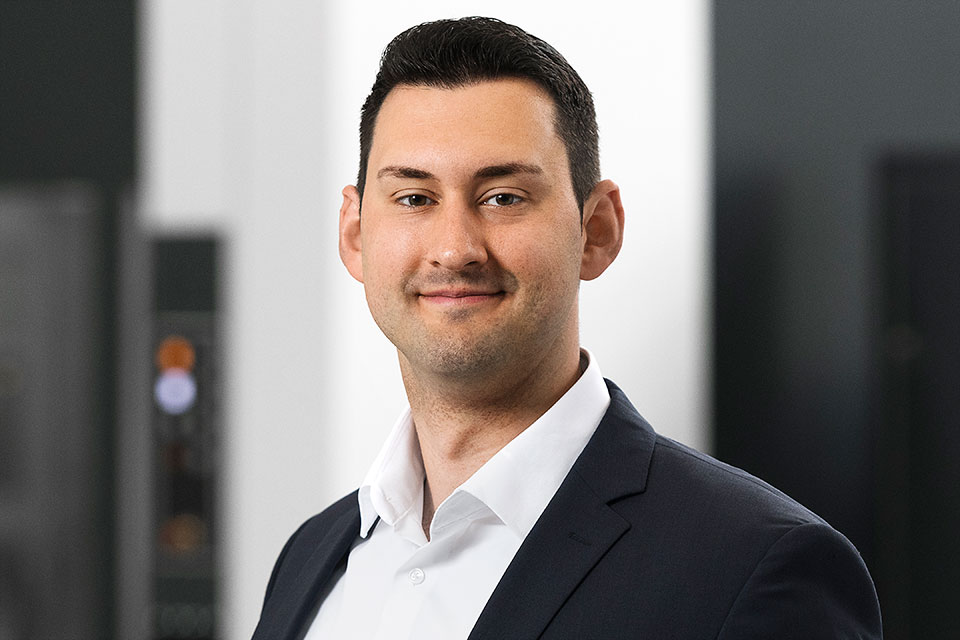 On a voyage of discovery through myHELLER
with Marcel Chokoufé
I am going on my own voyage of discovery through myHELLER with Marcel Chokoufé, Head of After-Sales Business Development at HELLER. He is responsible for the new platform in the area of services and will show me what it has to offer.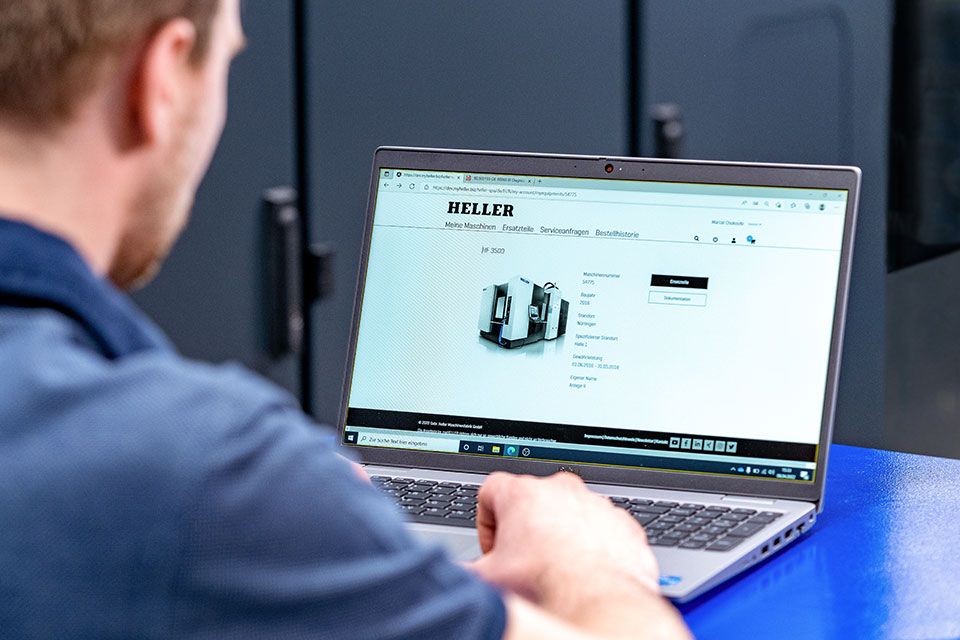 We start with the 'My machines' feature. "Here, customers will not only see an overview of their complete HELLER machinery, but they can also customise them. In addition, they will find lots of useful information and services," explains Chokoufé. The at-a-glance machine overview is independent of the machine type and year of manufacture. With a few clicks, I can go to the individual machine view with 3D visualisation for the H and HF series. Together with this, suitable spare and wear parts for the machine are displayed. There is also comprehensive product information with clear and simple descriptions so that you are able to find the right product in the quickest possible way. Important operating and diagnostic manuals are available to download here as well.  
Efficient spare parts ordering
Once you have accessed the integrated spare parts shop, you can order suitable spare and wear parts for the corresponding HELLER machine – simply, safely and conveniently around the clock. All relevant spare and wear parts for the machine are listed in the shop. I also use the intuitive search function in parts lists and the visualisation of parts. Sought and found – with one more click, the matching products are added to the virtual shopping cart. Current availability and price are now displayed here. Then you can finalise your order.  
Sending service requests made easy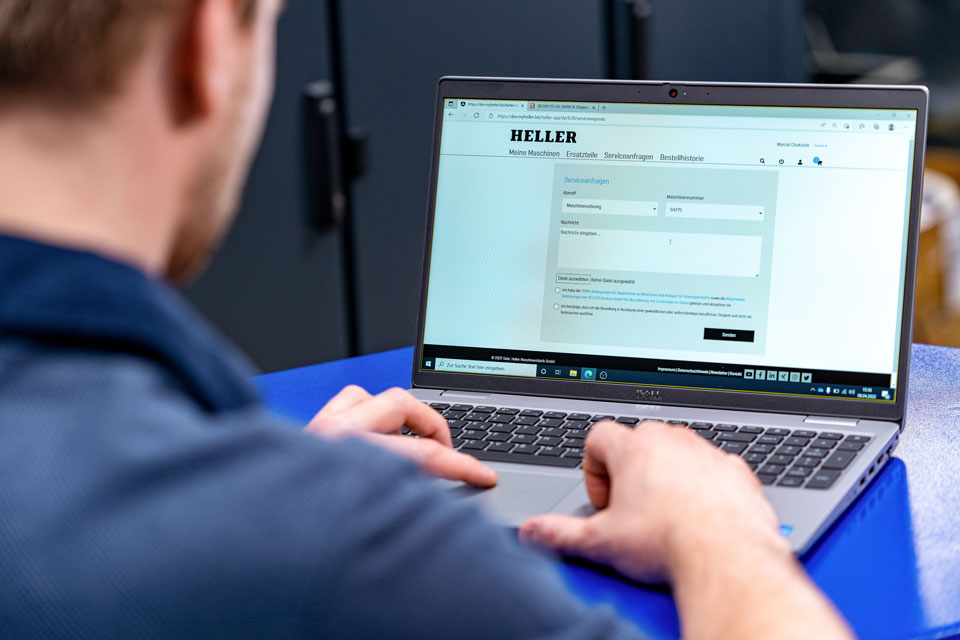 If the customer is interested in preventive maintenance, for example, a service request can be created easily from anywhere and at any time using the system. The request is sent directly to the dedicated HELLER contact. "Of course it will then be answered without delay," assures Chokoufé. Not only in the event of malfunctions will the responsible HELLER service base promptly contact the customer. "After all, expertise, speed, flexibility and customer proximity are our strengths," the 32-year-old HELLER employee continues.
The dedicated HELLER contact – knowledgeable and close at hand
With just one click in the portal's search mask, you are able to find the qualified personal contact for all questions about HELLER services.
My verdict of the portal on completing my voyage of discovery: Thumbs up!
For more information about the myHELLER customer portal go to:
www.heller.biz/en/services/myheller/