Partnership means being right at the heart of the game
Systematic, sustainable, in partnership – these values provide the foundations of HELLER's corporate philosophy. The HELLER distribution partners make an important contribution to implementing these values. The independent sales agency Hans P. Greising GmbH in Rottenburg has been a trusted partner of HELLER for decades, providing local contacts, customer proximity and optimal customer support in Baden-Württemberg. A partnership that brings added value to both companies because the brothers Peter and René Greising are true 'HELLER boys'.
TEXT Manfred Lerch PHOTO Jens Gelowicz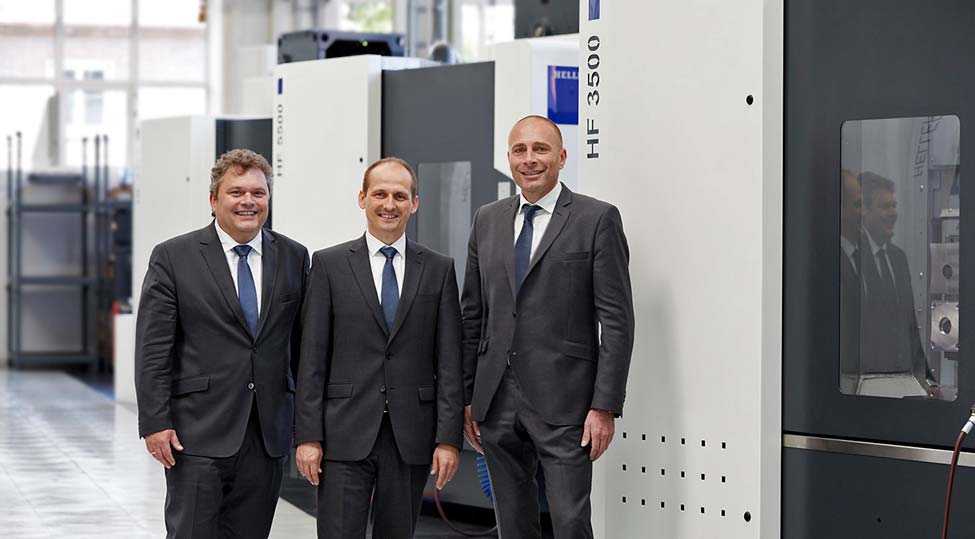 Following their vocational training in Tübingen, the two worked at the HELLER test department. They know the machines and identify with the HELLER brand. According to DACH Sales Manager Stefan Benz, this partnership is not limited to the sale of machines: "Our distribution partners are also brand ambassadors. They communicate our philosophy, the attitude towards customers and the high significance of service to HELLER. Some of our customers are very discerning, having very high requirements or expectations. Therefore, it is important to us for customers to have competent contacts that keep in constant touch with them, using the feedback they receive to shape our future."
The fact that the brothers Greising do this with pride and passion is illustrated by the continually growing market penetration and brand awareness throughout Baden-Württemberg. The two, for example, have succeeded in doubling the share of machines from the HF series sold. What is interesting about this is that the sales agency Hans P. Greising focuses on small and medium-sized companies, contract manufacturers and suppliers from almost all industries. With a 50:50 ratio of new customer acquisition and support of existing customers, their formula seems to add up.
Combined expertise and direct communication
HELLER thinks globally whilst providing a strong regional presence. For the region of Baden-Württemberg, this means that any feedback, market requirements or possible problems are collected and forwarded to the respective departments at HELLER. To René Greising it is the ideal constellation: "In practice, the focus is primarily on reliable machines and high outputs of the machining centres. In this regard, HELLER is clearly at an advantage. Already during the initial consultation, we are able give specific guidance and make recommendations based on our experience and expertise. As far as automation solutions are concerned, we are on very good terms with the respective departments at HELLER. However, we only contact the individual technical departments when details such as interfering contours need to be considered." This combined expertise and direct communication with Nürtingen also brings added value to existing HELLER customers, because the Greising brothers have a seat at the table and participate in Sales meetings whenever the technical course for the future is set. This puts the brothers right at the heart of the game. The same holds true when quick service support is needed in a specific case.
Delivering realistic data
Considering the many different industries HELLER works with, it can be difficult to implement technical requirements at short notice. However, that is not the task of the distribution partners. Rather, their task is to challenge preconceived opinions by convincing customers and overcoming preconceptions such as "HELLER machines are good, but we cannot afford them". In these cases, Greising GmbH has to illustrate the benefits and to highlight potential future capacities. When a customer adds up all the benefits, the investment may be higher than with lower-cost machines, however, it quickly pays off in terms of quality, reliability and delivery capacity. Therefore, Peter Greising is quite clear when it comes to countering arguments that appear to argue against HELLER: "The HELLER genes are widely known today. Despite this, there are projects where we are competing against technical data that only exist on paper. In fact, theoretical data are not what is important. What matters is the output the machine is able to deliver and its degree of reliability and availability. In these regards, we are at an advantage, consistently delivering realistic data."
Sharing the same values
The collaboration with the sales agency Hans P. Greising is in accord with the HELLER corporate philosophy: systematic, sustainable, in partnership. Systematic, because they respond to customer requirements in a targeted manner, providing measurable added value. Sustainable due to the long life cycle of the machines and comprehensive after-sales support that also applies to service. And finally, in partnership between HELLER and Greising, characterised by trust, understanding and shared goals.