Problems spark resourcefulness, as has been proved. Only through technology and ever-new tools, have humans been able to adapt to new environments and conditions and to survive – in contrast to many other living creatures. The oldest evidence of this are tools made of stone. More than two million years ago, the first humans used them as an extension of their hands and arms and as an invulnerable way of specialisation of the fingers, e.g. for hunting, food preparation or defence. Over time, tools continued to evolve with our challenges and needs – developing more and more rapidly with the growth in population from the Middle Ages onwards.
Nothing is more constant than change. Around the year 1800, industry underwent a profound change. From the machine age to assembly line production, electronics and IT through to automation and increasing digitisation: the Industrial Revolution changed the way we live and work forever – and still does. Today, machines and devices have become everyday companions for us in our private and professional life: we keep in touch with each other at all times with our smartphones, access information in real time using networked assistance systems, and receive support from intelligent applications and systems at work and at home.
"First, we used tools, then we operated machines, now we interact with intelligent systems.""
Bruno Gransche, Fraunhofer Institute for Systems and Innovation Research
Ultimately, it can be said that technological development has changed human evolution. All work techniques, adaptation to the environment, advances and innovations would never have been possible without the concept of the tool.

Word meaning/definition
A man, woman, or child of the species Homo sapiens, distinguished from other animals by superior mental development, power of articulate speech, and upright stance.
Examples:
"We human beings differ from most animals in that we act upon nature to produce the things we want and need."
"There is every reason to think that you would come across problems cloning humans."
"If the natural environment is naturally subject to change then what about us humans?"
Synonyms for humans
Human being, individual, person, earthling
Origin
Late Middle English humaine, from Old French humain(e), from Latin humanus, from homo 'man, human being'. The present spelling became usual in the 18th century; compare with humane.

Word meaning/definition
1. An apparatus using mechanical power and having several parts, each with a definite function and together performing a particular task.
Examples:
"The fact that machines perform repetitive tasks better than humans is widely recognized."
"Throughout history, people have been building machines that can perform tasks better than humans."
"But we are suggesting neither that the human race would voluntarily turn power over to the machines nor that the machines would wilfully seize power."
Synonyms for machine
Apparatus, appliance, instrument, tool, device
Origin
Mid-16th century (originally denoting a structure): from French, via Latin from Doric Greek makhana (Greek mēkhanē, from mēkhos 'contrivance').
The industry's productivity is one of the cornerstones of our society. Machines help to increase this productivity, but also enhance the safety and simplicity of industrial production.
Even today, machines are able to automatically trigger commands to control systems and to proactively pass on information to people. Factories often rely on the support of such machines that can effectively copy the techniques of well-trained and experienced operators.
Intelligent control systems are also finding their way into modern production. While in the past, for example, machines were only able to continue or stop operation when a person was detected in a danger zone, they are now able to react to such situations on a case-by-case basis. For example, the operating speed can be reduced if the person inside the danger zone is a highly qualified person – or it can be completely stopped if this is not the case. That does not only ensure the safety of operators, but also enables efficient and flexible production without unscheduled downtimes.
In short: new technologies such as Artificial Intelligence (AI) have revolutionised the processes and forms of work applied in industry. This requires a new mindset – and newly defined rules for the relationship between man and machine.
The human-machine interface is essential for the safe and convenient operation of a system.
Industry 4.0, digital networking and Cyber-Physical Systems in production enable the mechanisation of previously manual fields of work. With increasing complexity, the interface to technology and its ease of use is becoming more and more important. By now, all employees in operational business have to find their way around in digital working environments – and the effort, if they first had to familiarise themselves with the programming language of the respective system, would obviously be too great for companies. That is why there are visual and audio-supported dialogue systems. So-called Human Machine Interfaces (HMIs) provide an efficient interface and reduce complexity. The many functions of modern HMIs, e.g. remote monitoring or dashboards with KPIs, significantly simplify manufacturing processes. As a result, and through the availability of important data in real time, Human Machine Interfaces not only help operators to precisely record operating conditions, but also to react to changes by making the right decisions.
Despite all the possibilities that are already available today, experts say that we are only at the beginning of human-machine interface manufacturing. It can be assumed that HMIs will become more and more powerful in the future and will even be able to make real-time calculations.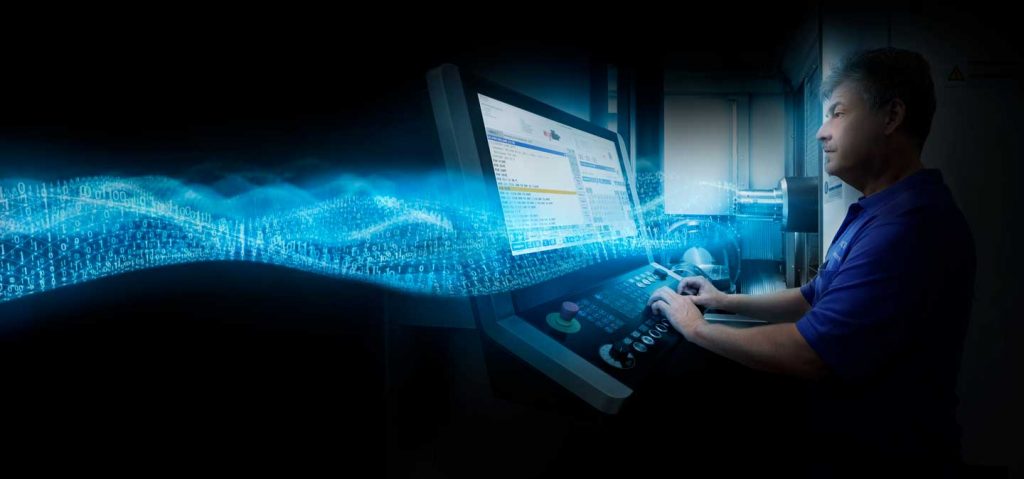 From bench vice production to highly flexible manufacturing system
The story of HELLER began in 1894 when the 25-year-old Hermann Heller founded the company 'Hermann Heller Handelsgeschäft und Fabrikation in geschützten Artikeln und Uhrmacherwerkzeugen' in Nürtingen. The history of HELLER – just like that of working people – began with the manufacture and use of various tools and soon fostered a certain spirit of invention and innovation. At the beginning of the 20th century, HELLER ventured into the manufacturing of milling machines, launched production lines in 1942, introduced the electrohydraulic control in the 1950s and supplied its assembly stations with material by means of inductively guided conveyor vehicles in the early 1960s.
At this pace, the company initially employing seven journeymen and three apprentices developed into a globally operating group of companies with 2,560 employees and a worldwide competence network. Today, the HELLER Group develops and produces state-of-the-art CNC machine tools and manufacturing systems for machining processes. Moreover, in the context of Industry 4.0 and digitisation, the machine tool manufacturer has developed an innovative concept named 'HELLER4Industry' which further increases the machine productivity of HELLER machining centres and redefines the rules of the human-machine relationship, thus creating genuine added value for customers.
We can only guess how the human-machine or human-system relationship will develop in the future – globally and especially at HELLER. An exciting expert forecast says that by the year 2045 AI will exceed the capacity of the human brain. However, companies like HELLER, which have been and will be shaped by people and which operate and produce machines using innovative technologies, may want to add: ultimately, what is AI but a tool that complements and optimises human capabilities? After all, humans are able to see the big picture, to integrate complex systems and to cope with unusual situations. This is what sets humans apart from machines – the reason why people are still essential in environments requiring complex decisions.
There is no question that the relationship between human and machine, and with it the way we live and work, will continue to change. Whether humans will continue to set the pace or whether intelligent systems will soon set the pace for them: we believe in the potential of the collaboration of humans and machines. We also believe that the two are not as contradictory as they appear at first glance – and that wherever they differ they still complement each other perfectly. That is why we are putting people and machines equally in the focus of our work – and of this magazine.