Learning for life: at the Nürtingen headquarters, HELLER has concentrated its entire spectrum of manufacturing systems for metal cutting applications at the long-standing industrial training department. With its integrated training concept of the 'Teaching and Learning Factory', the family enterprise has positioned itself as an innovation leader – not only in the key industry of Mechanical Engineering.
Text Marcus Schick Photos Sebastian Grenzing
Visitors entering the light-flooded foyer at the HELLER main entrance in Nürtingen are invited to step right into the heart of it. From here to the right is the TechnologyCenter, a kind of showroom, where the long-established company's latest CNC machine tools and manufacturing systems for metal cutting applications are exhibited, including 4-axis and 5-axis machining centres, mill/turning centres, special-purpose and process machines, coating modules or machines for crankshaft and camshaft machining.
Turning left leads you into a space that provides the foundations for all this high-tech equipment. A placard at the entrance welcomes visitors to HELLER's vocational training facilities. The picture on it shows young people smiling widely and wearing the blue HELLER gear together with their instructors. Accepting their invitation into the company's education centre is well worthwhile. The vocational training offered by HELLER is unique and each year attracts potential apprentices and students from all over the world, wishing to learn more about the award-winning, holistic training concept.
At the entrance, we are greeted by Martin Schmeckenbecher, a friendly and approachable Swabian with a pair of bright eyes and a well-groomed beard sprinkled with grey. The 49-year-old has been Head of Vocational Training at HELLER in Nürtingen since January this year. He obviously finds it difficult not to be able to shake hands in times of Corona. "I like people," he says, raising his hands apologetically. It is obvious that the trained steel fitter breathes enthusiasm for education and life-long learning. He explains that he completed a number of extra-occupational qualification measures before graduating as Master of Technical Management, always with the goal to work in vocational education. "I like to be in close contact with the young people to spark their enthusiasm for their professions."
The HELLER headquarters in Nürtingen offers excellent prerequisites in this regard. The company's own training workshop has grown over time and today, between 30 and 40 young people start their apprenticeship or degree every year.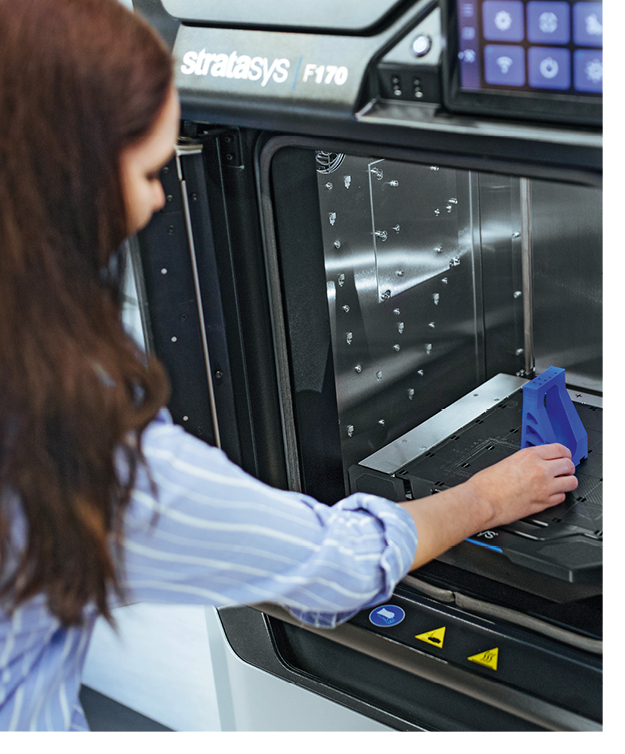 Training courses with a future
The company offers a broad spectrum of professional training courses, ranging from Industrial Mechanic and Metal Cutting Mechanic to Mechatronics and Electronics Engineer for Automation Technology through to Technical Product Designer specialising in machinery and equipment design. Furthermore, the company offers a number of work-study programmes focusing on Mechatronics and Mechanical Engineering.
"Experts don't grow on trees nor do they fall from the sky. They have to be educated and trained on an ongoing basis. Having skilled workers determines the economic efficiency and success of the machines," explains Martin Schmeckenbecher, putting the HELLER vocational training philosophy in a nutshell. The HELLER ProfiTrainer (PT), a miniature version of a large CNC machining centre built completely by the apprentices throughout the course of their education, helps to pave the way towards accomplishing this goal.
"The stations of the PT 16 reflect the entire process chain of modern machine tool engineering. From basic training to product design, mechatronics and metal cutting through to electronics, logistics and assembly – all of these aspects converge in the ProfiTrainer," explains Schmeckenbecher. "As a result, the apprentices learn to keep an eye on the bigger picture and to think for themselves from the beginning."
"Even the grannies understand that their grandchildren are in good hands at the HELLER training department and headed towards a bright future."
Women on the up and up
One of the apprentices is Despina Lang. The 24-year-old is in her second year of training to become a Technical Product Designer specialising in machinery and equipment design. "After finishing school, I went to university to study Civil Engineering, but I quickly realised that I was more interested in machines," she explains. "I really enjoy 3D construction of large, fascinating machines and their components – especially using advanced, future-oriented technologies – for example, integrating virtual and augmented reality into the development process."
Having to stand her ground in a working environment that is still very much dominated by men is not a problem for Despina Lang. She explains that after all she comes from a family of artisans: her grandfather was a carpenter, her father is a trained electrician and her mother a tailor. Moreover, she has been a squad leader in the voluntary fire brigade for many years and is therefore used "to working with heavy equipment and seasoned men."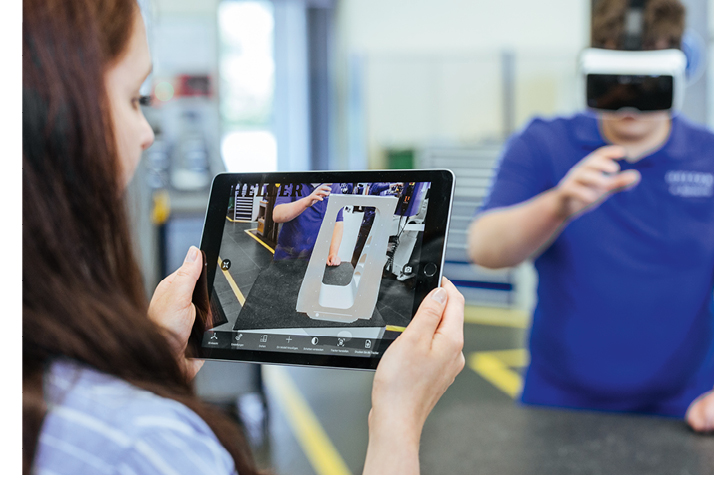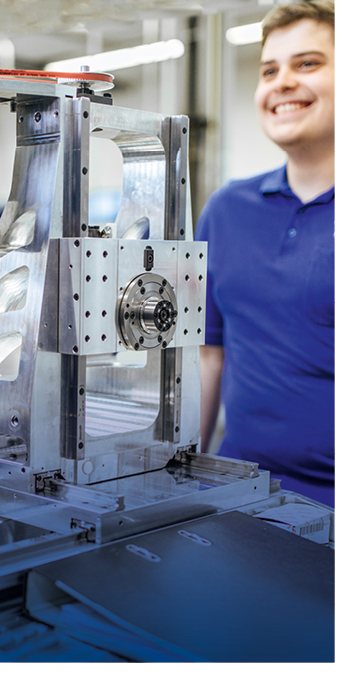 Real training for real life
Philipp Scheuerle is also passionate about technical innovations. He is 18 and in his third year of apprenticeship to become a Metal Cutting Mechanic. A demanding training profile. Apart from computer-controlled turning machines, these professionals also operate milling and grinding systems for the manufacture of precision components. They master the entire manufacturing process, the selection of the machining process and the set-up of the CNC-controlled machines.
"I had looked at many different professions before starting my training. I always liked milling and turning best," he says. "The workshop is an excellent place to learn these skills. One of the reasons is that the educational concept of HELLER's Teaching and Learning Factory covers HELLER's entire field of activity". For the components of the PT 16, he uses the 4-axis machining centre model H 2000, one of the most advanced machining centres at HELLER. "This is superior technology," he says appraisingly, explaining that it was OK to make mistakes now and then, which he believes is right and also important. "It makes you feel more confident when approaching new things."
Scheuerle feels that his profession is in the middle of a transition. The digitisation of milling and turning processes is progressing rapidly. Apart from craftsmanship it now also involves a substantial amount of data processing, machine programming and virtualisation. "I really enjoy it and it is also forward-looking", says Scheuerle.
From Fischertechnik to ProfiTrainer
Right next to the Machining Unit is the training area for the Electronics Engineers. The smell of tin-solder is in the air and cables and connectors are placed within easy reach. Axel Schäffer is completing an apprenticeship as an Electronics Engineer for Automation Technology at HELLER. The 19-year-old is in his third year of apprenticeship and moves around the training department with great confidence, almost like an 'old stager'.
He clearly enjoys his tasks. "My father also works as an Electronics Engineer at HELLER. As a little boy, I loved the Fischertechnik kit with a programming set he gave me for Christmas," the apprentice recalls. It seems the decision to opt for this particular apprenticeship was already set out for him.
"Working with machines and taking care of the electronics and their complex control is an extremely varied task," he explains. Following his second year of apprenticeship, he had the opportunity to gather some hands-on experience in day-to-day work practice in automation technology. Despite this, the protected learning environment provided by the HELLER training department is still something he greatly appreciates: "I learn the most whenever we encounter problems throughout the assembly of the PT 16 and manage to solve them with the assistance of the Foreman and the Training Supervisor. Having fixed a problem feels really great."
Axel is a team player and likes the fact that the different crafts involved in the construction of the ProfiTrainer work hand in hand within a confined space. "We often sit together to think about what we could do better." According to him, this helps them to know each other's skills better and gives them the assurance that they can rely on each other.
To Training Supervisor Martin Schmeckenbecher, the training concept of the Teaching and Learning Factory using the ProfiTrainer is a success. "The ProfiTrainer helps us to show the apprentices how the individual process steps and qualifications interlock and what this means for the each of the professions." It allows to illustrate and discuss all correlations within the value-added chain and throughout all the manufacturing stages, providing an opportunity to experience the overall purpose of the company. "We do this in a way that makes everybody understand what we do: the applicants, the parents, the Chamber of Industry and Commerce as well as our customers," says Schmeckenbecher, adding in a tongue-in-cheek manner: "Even the grannies understand that their grandchildren are in good hands at the HELLER training department and headed towards a bright future."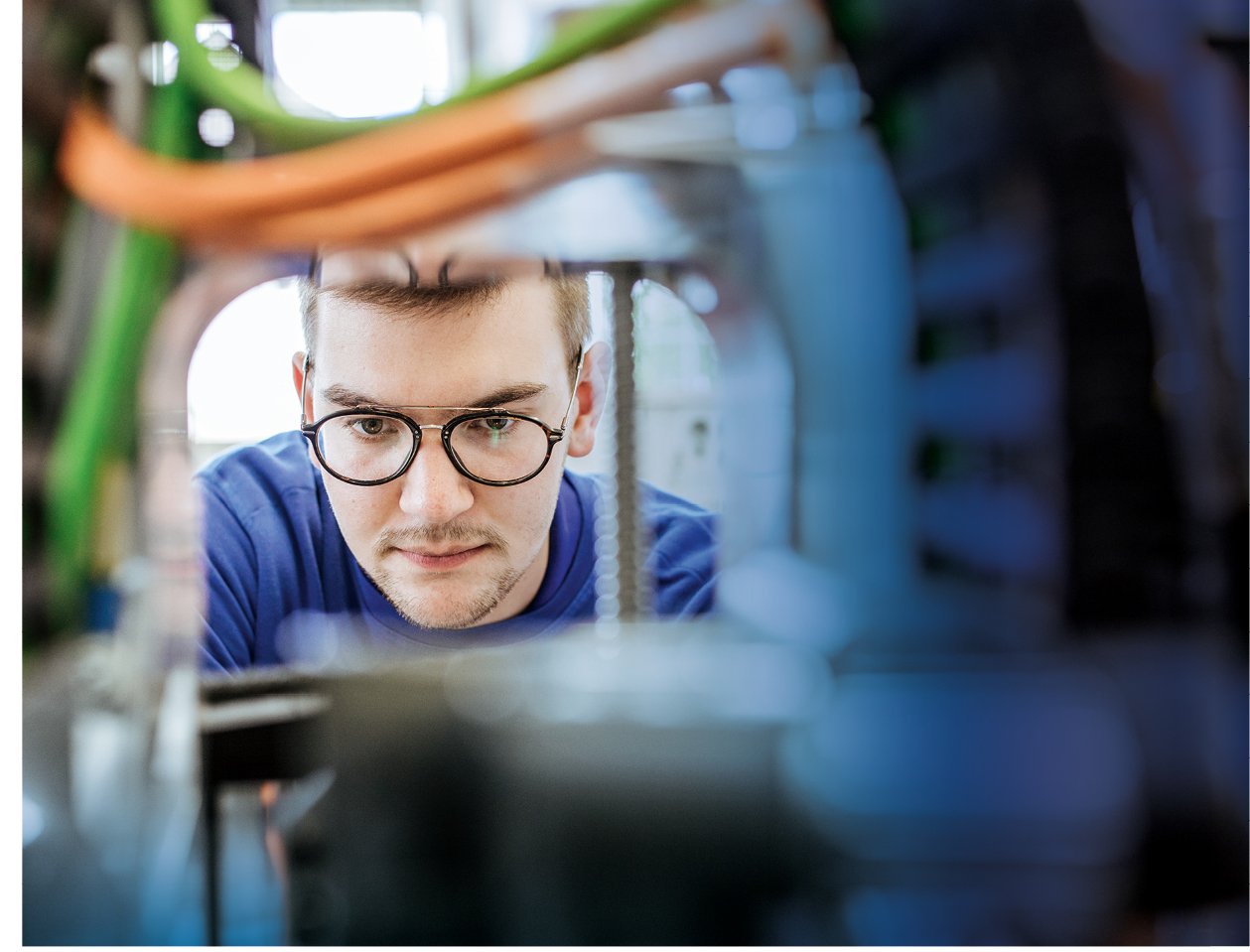 At the HELLER headquarters in Nürtingen, the company operates its very own "Teaching and Learning Factory" for students and apprentices in various professional fields based on a pioneering educational concept. Why make this kind of effort? We asked Martin Schmeckenbecher, Head of Vocational Training at HELLER.
Mr Schmeckenbecher, how important is vocational training to HELLER?
Training is the beginning of everything. Therefore, it is of paramount importance – to the company, but also to our society and our entire educational system. Learning and development always belong together. Even the top decision makers once started their lives' journeys and professional careers being learners. Therefore, training and education are always an investment in the future.
What do you expect from the apprentices?
To me they are uncut diamonds. Primarily, our team of instructors expects them to be curious and willing to meet the challenges of our time. However, every generation of apprentices is different. Ten years ago, young people would still ask us "What profession should I choose and how can I get there?" while today a question we are asked increasingly is: "Why am I choosing a particular profession and what other career paths can I take from there?"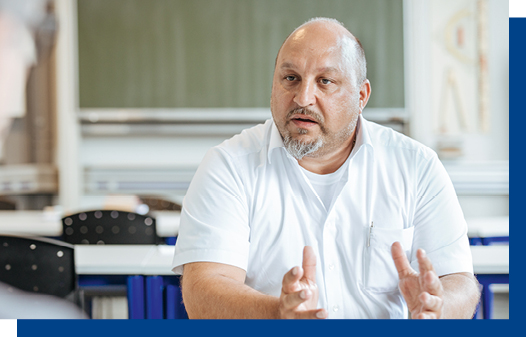 Where does this change in perspective come from?
The economy and our society are dynamic systems that are constantly changing and adapting to new overall conditions. Digitisation or the increasing interconnectedness of all areas of life and work have become important factors. As a company that trains young people, we have to ask what the apprentices bring with them from school and their social environment. Vice versa, we have to tell the apprentices and their parents why specific professions are meaningful and important in these transformative times.
How do you see your role as the Head of Vocational Training?
A significant part of my role is to provide information and to be a mediator: between the young people, the schools, their families, the Chamber of Industry and Commerce with its examination requirements and us as the training department. Moreover, we sometimes have to remind the 'old-stagers' in our company that they were apprentices once themselves who were not only eager to learn but also to make a difference and to change things. As in all areas of life, the important thing is to listen to each other.
What advantages does the concept of the Teaching and Learning Factory provide?
Our training facilities combine traditional craftsmanship and mechanics with diverse aspects of Industry 4.0. Manual filing, turning and drilling are just as much a part of it as digitised manufacturing processes, 3D printing, the use of VR and apps or networked actuators and sensors. This makes the Teaching and Learning Factory a very effective instrument for providing a modern, contemporary education. This is how we keep up with the future.
And what about the Coronavirus pandemic? Does it affect vocational training?
It is hard to predict when and how the economy will recover from the crisis. Investing into a thorough education when times are tough is an important stepping-stone into a brighter future. We have integrated the hygiene and social distancing rules and are deliberately not cutting back as far as the quality of our vocational training is concerned.
Where is the HELLER training department headed?
"Beim Heller g'lernt" (apprenticed at Heller) is a trademark known far beyond our region that provides endless potential. The fact that our vocational training concept based on the ProfiTrainer focuses on a high-tech product, reflecting the entire quality of the company, is a unique characteristic when it comes to finding and retaining the most brilliant minds for the company.